Albums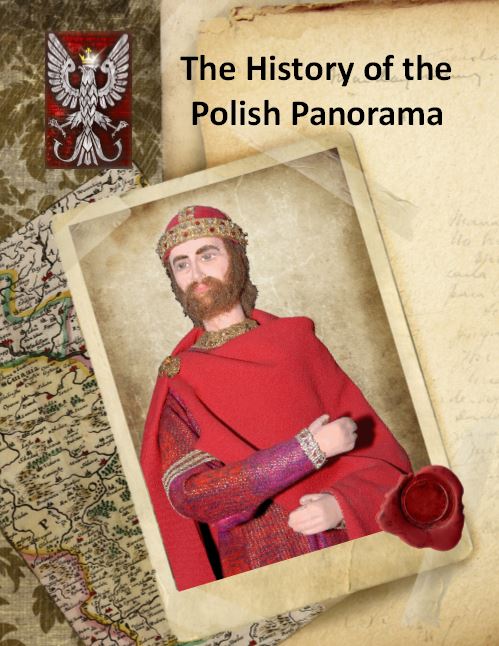 Through the efforts of Project Director, Ceil Wendt Jensen and Editor, Dr. Hal Learman, this publication of The History of the Polish Panorama provides a pictographic and brief historical presentation of The Polish Panorama — a diorama representing over a thousand years of Polish history and composed of 106 figures — which has educated and entertained audiences, both young and old, for over thirty years. Several years ago the importance of renovating the unique pageant became apparent. The first stage of fund raising began with the establishment of the Guardian Angel program for the figures. For a donation of $500.00 or more, a donor could choose a character from the diorama and become its patron. Contact The Polish Mission at 248-683-0412 to arrange an onsite viewing of the Polish Panorama.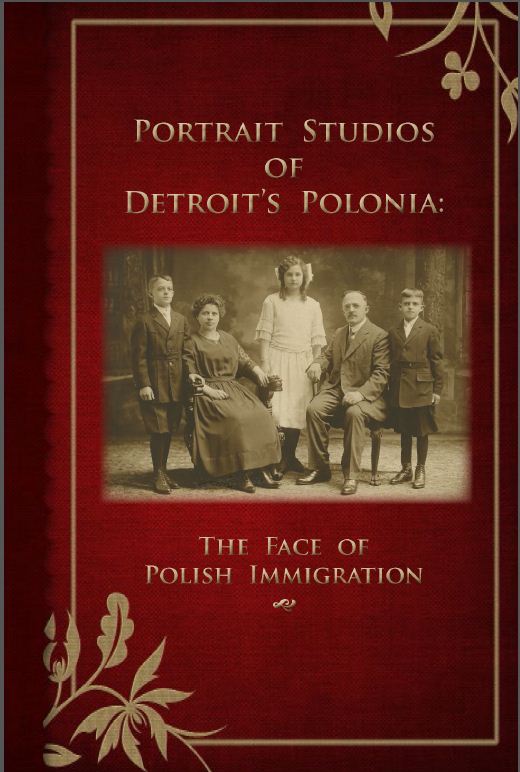 The publication of Portrait Studios of Detroit's Polonia: The Face of Polish Immigration, had been made possible through a grant awarded to The Polish Mission of the Orchard Lake Schools by the Michigan Humanities Council, a state affiliate of the National Endowment for the Humanities. Numerous individuals and organizations willing loaned or donated images that allowed Editor, Dr. Hal Learman and Project Director, Ceil Wendt Jensen to create this 84 page album which illustrates and describes the work of major and minor photographers who serviced the community throughout the cycle of life, chronicling religious sacraments, academic pursuits, and the activities of ethnic organizations.
portrait-sutdios-of-detroits-polonia_the-face-of-polish-immigration_part-1
portrait-sutdios-of-detroits-polonia_the-face-of-polish-immigration_part-2
Articles

Ceil Wendt Jensen transitioned from being a public high school educator into a genealogy career which led her to become a featured writer, her published articles having appeared in the National Genealogical Societies NGS Magazine, Ancestry Magazine, FEEFHS Journal, Polish Genealogical Society of Michigan's Polish Eaglet, and online with Gen Dobry. The list below represent a number of her works.
Ancestry Magazine via Google Books:
Jul-Aug 2007  How Far Do You Go?

Jan-Feb 2008  Seeking a Home in Poland – Researching Polish Ancestry
Jul-Aug 2008  Are We in Line for the Polish Throne?
Nov-Dec 2008  The Great Nepotism Experiment
Mar-Apr 2009  Mashup!
Nov-Dec 2009  Covering Your Roots

Jan-Feb 2010  Agents of Change: Recruiting for Industrial America in 1800s
Mar-Apr 2010   Family: Our Favorite Project
Mar-Apr 2010  Discovering Displaced Persons

2006
2006 Holiday, Signature Magazine: Finding Family

2006 NGS NewMagazine, November / December: The ABCs of School Records
2007

2007 July-August: How Far Do You Go?
2007 FEEFHS Journal Volume XV, 2007: Online Maps for Polish Research

2008

2008 July, West Side Detroit Polish American Historical Society: Remembering Piotr
24 June 2008 Ancestry.com Webinar: It's a Wonderful Time to Begin Your Polish Research

Summer 2008 The Polish Eaglet: Thatched Roofs and Log Cabins

UPGS 10th Biennial Seminar in Salt Lake City
2008 January-March NGS NewsMagazine Volume 34, Number 1, page 41: Welcome home! Witajcie w domu! You are four steps from your Polish village
2009
West Side Detroit Polish American Historical Society: The Calendar Crusader (1942-2009)
West Side Detroit Polish American Historical Society: Meet the Collector Dr. Edward Martin
2017
Travel.lovePoland (pp. 68-74) The Peasant and the Palace — Genealogy and a Story from Rogalin
Books
Sto Lat: A Modern Guide to Polish Genealogy
Ceil Wendt Jensen, Professional Genealogist, presents practical examples and suggestions on how to use records, databases, and archives to start or advance your genealogy research. She dispels the myth that records were destroyed during the World Wars and that language barriers make European research difficult. A lavishly illustrated workbook, Sto Lat: A Modern Guide for Polish Genealogy, offers a plan for researching at least one hundred years of family records, and is a compilation of techniques developed over thirty years of research and teaching. These are tried and true techniques used for clients and with patrons. Both traditional and digital research techniques are presented. Common research questions are answered and suggestions are offered to help novice and advanced researchers find ancestors in North America and Poland.
Fred Hoffman, author of Gen Dobry! writes of this publication:
The author plays to her strengths, using her extensive teaching experience to guide others along the same path she has walked herself, from baffled beginner to savvy veteran. She does a particularly good job of pointing the reader toward resources available online, without neglecting the traditional sources that remain essential to good research. As a reader, all you need to do is look through the section headings in the table of contents — a series of questions researchers typically ask — to find the one puzzling you at the moment. Then check the corresponding section to see how the author answers it. What could be simpler?
Detroit's Mount Elliott Cemetery
Mount Elliott Cemetery is Detroit's oldest extant cemetery, started by the Catholic community in 1841. The consecrated ground is named for architect Robert T. Elliott, who was instrumental in purchasing the land and was the first interment. The roads in the cemetery honor religious leaders: (Pope) Pius Avenue, Bishop LeFevere Avenue and Place, and Bishop Borgess Avenue. The remaining roads carry biblical themes: Calvary Avenue, Holy Cross Place, Trinity Avenue, and Resurrection Avenue. Remains from Detroit's St. Anne's cemetery were brought to Mount Elliott, where French, German, and Irish surnames abound. The tombstones at Mount Elliott reflect family names well known in the tricounty area: Beaubien, Campau, Caniff, Chene, Cicotte, Moran, and Moross. These religious, business, and political leaders have left their names on buildings, roads, and landmarks. They are commemorated here with handcrafted marble, granite, and zinc memorials. Mausoleums honor families, including Palms, Scanlon, and Welch. Military burials include those who served in Napoleon's army, the War of 1812, the Civil War, World Wars I and II, and Vietnam. The special areas for the Detroit firemen and many Catholic religious orders pay homage to the groups of men and women who worked so selflessly to protect and serve the city. The Mount Elliott Cemetery Association provides perpetual care for Mount Elliott Cemetery and four sister cemeteries: Mount Olivet, Resurrection, All Saints, and Guardian Angel.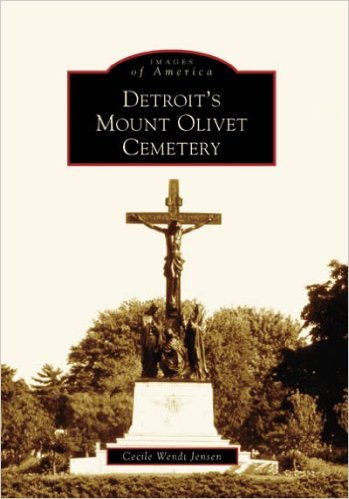 Detroit's Mount Olivet Cemetery
Mount Olivet was the second Catholic cemetery developed by the Mount Elliott Cemetery Association. Now surrounded by city, Mount Olivet was nestled in the countryside when it opened in 1888. Directions in 1900 instructed visitors to reach the cemetery via train or electric streetcar. Round-trip was 35¢ on the Grand Trunk Railroad. The varied backgrounds of those buried in the consecrated ground at Mount Olivet reflect the surge in immigration to the city that spanned the early 20th century. Belgian, German, Italian, and Polish cultural, business, and political leaders are buried here. Each group clustered near its own Catholic parish and had its own funeral directors, photographers, and florists: Our Lady of Sorrows (Belgian), St. Joseph (German), San Francesco (Italian), and St. Albertus (Polish). Funeral directors included Charles Verheyden (Belgian), Frank J. Calcaterra (Italian), and Joseph Kulwicki (Polish), who officiated at the first burial at the cemetery. Military burials range from Civil War soldiers to those who fought in Vietnam. The cemetery is graced with beautiful marble and granite statuary and unique mausoleums designed by noted architects and featuring stained-glass windows. The Mount Elliott Cemetery Association provides perpetual care for Mount Olivet Cemetery and four sister cemeteries: Mount Elliott, Resurrection, All Saints, and Guardian Angel.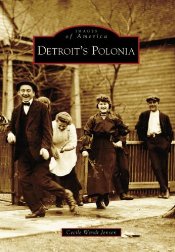 Detroit's Polonia
More than a century has passed since the first Poles settled in Detroit. The first communities were established on the east side of Detroit, but the colony expanded rapidly to the west neighborhoods, and Poles in Detroit still identify themselves as East- or Westsiders. The pioneers left Poland for freedom of language and religion, and to own property. They replicated village life in the big city, living in close-knit neighborhoods anchored by the parish church. Polish immigrants made cigars, built railroad cars, molded stoves, established businesses and breweries, and moved into the political arena. The struggles and triumphs of these early settlers are on display in the pages of Detroit's Polonia, a photographic history that links future generations with their Polish heritage.